Sometimes, the three most popular letters in Customer Success seem to be "QBR."
It's impossible to visit any kind of community or forum for Customer Success without seeing a constant stream of questions regarding QBRs. How to build the perfect slide deck, who to invite, and what information to present are all common topics.
Gainsight runs a great Slack workspace where questions like these come up every few days: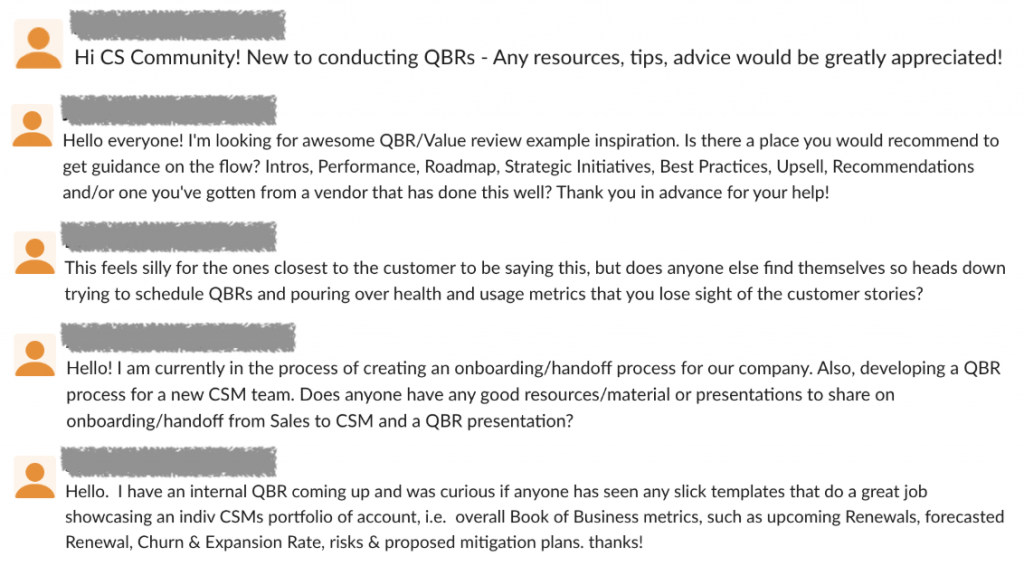 If you've been tasked with QBRs you may have similar questions yourself. How do we do them? What do we call them? Does anyone have a good slide deck?
Slow down. Take a deep breath. Let's start from the beginning.
First of all, what are QBRs?
QBR stands for Quarterly Business Review. These are regularly scheduled meetings where we check in with our customers, review progress and plan ahead. We can also collect valuable feedback and spend quality time with our customers face-to-face (or at least screen-to-screen).
But we call them something different at my company!
If you don't like the term QBR, that's ok. You can call them whatever you want. At Linode, we call these meetings EBRs, or Executive Business Reviews. When we were first starting out, we said QBRs. However, since not all of our meetings are held on a quarterly cadence, we thought the "Quarterly" part didn't make much sense. In most of these meetings we are also speaking with executives, so EBR is a better description for what's going on.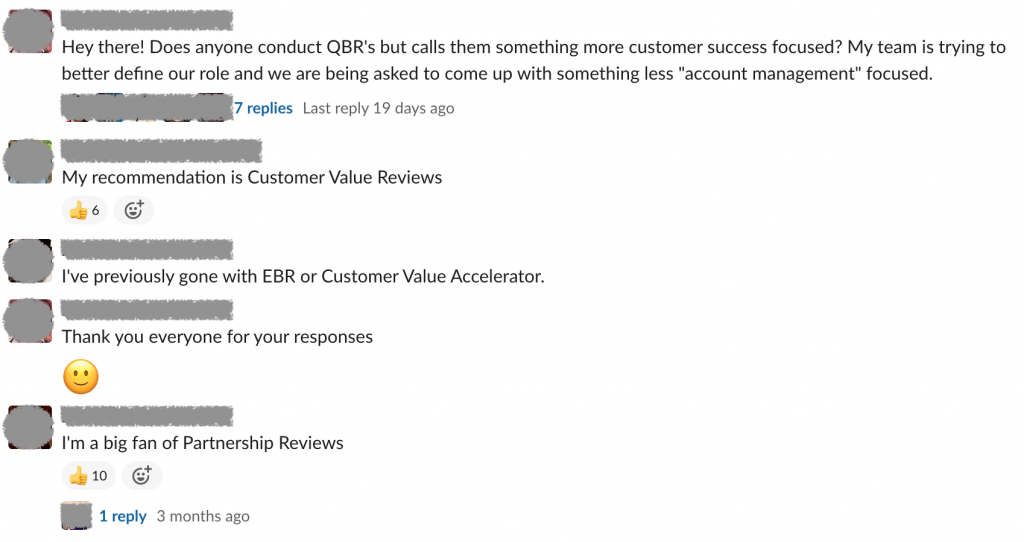 Ok… so what are we supposed to talk about?
Regardless of what you call them, the benefits of QBRs are twofold: we bring value to our customers, and we bring value back to our company.
What are you bringing to your customers in the time slot they've graciously given you out of their busy day? What kind of valuable information can you bring back to your own internal teams after each meeting? This will vary depending on your situation.
One piece of advice if you're just starting to do QBRs: don't overthink them. Ask your customers what they'd like to see, come prepared with some neat usage stats, and make the slides look nice. If you're doing it right, a slide deck should just be a rough guideline for your conversations with customers, anyway. You can even skip the slides and have a normal conversation, if you'd like.
How do we run EBRs at Linode?
For our first quarter of reviews, we put together a few slides on account usage, Linode's product roadmap, etc. and then asked each customer, "was this useful to you?" From there, we continued to iterate. To this day we continue to experiment with different content and agenda items for our meetings.
While we do have a slide template to start with, we let our customers determine most of the QBR content. In an initial onboarding or discovery meeting we try to determine what's most important to them (is it our roadmap, platform usage stats, etc.?) and go from there. Ultimately, each QBR ends up being unique as it focuses solely on that particular customer's stated goals and how to achieve them.
When it comes to EBRs, our focus right now is on a small number of high touch customers, so that allows us to take the time to customize each one.
Do I even need to hold QBRs?
Maybe not! Are you getting anything out of these meetings? Are your customers getting anything out of them?
If you've been mindlessly scheduling the same meeting every quarter and narrating from a slide deck, it may be time to go back to the drawing board. Our time is valuable, and there are plenty of other things we could be working on. For further reading on this, Lincoln Murphy has a great article called A QBR is NOT Required for Customer Success.
He's right; QBRs aren't required. If you aren't seeing value in QBRs, ditch them. Then you can obsess over something else.